March 5th, 2020
The CryoVR team was invited to present their work at the 2020 Purdue Midwest Cryo-EM Consortium Meeting. Brenda and Jiahui presented on the CryoVR project and setup a live demo during the whole event for attendees to try. Other teammates, Daoyi and Ziwei helped coordinate demos and present/design our poster for this event! We thank users for their useful feedback.
March 2nd, 2020
Graduate students on the CryoVR team, Jiahui and Brenda, presented current CryoVR Module development progress and setup a live demo for the NCCAT-NYSBC Single Particle Short Course! This was the debut of our playback game features and improved UI elements. We have gathered a lot of useful feedback from users from this meeting, and are excited to continue developing more CryoVR Training Modules to simulate different processes in the cryoEM pipeline.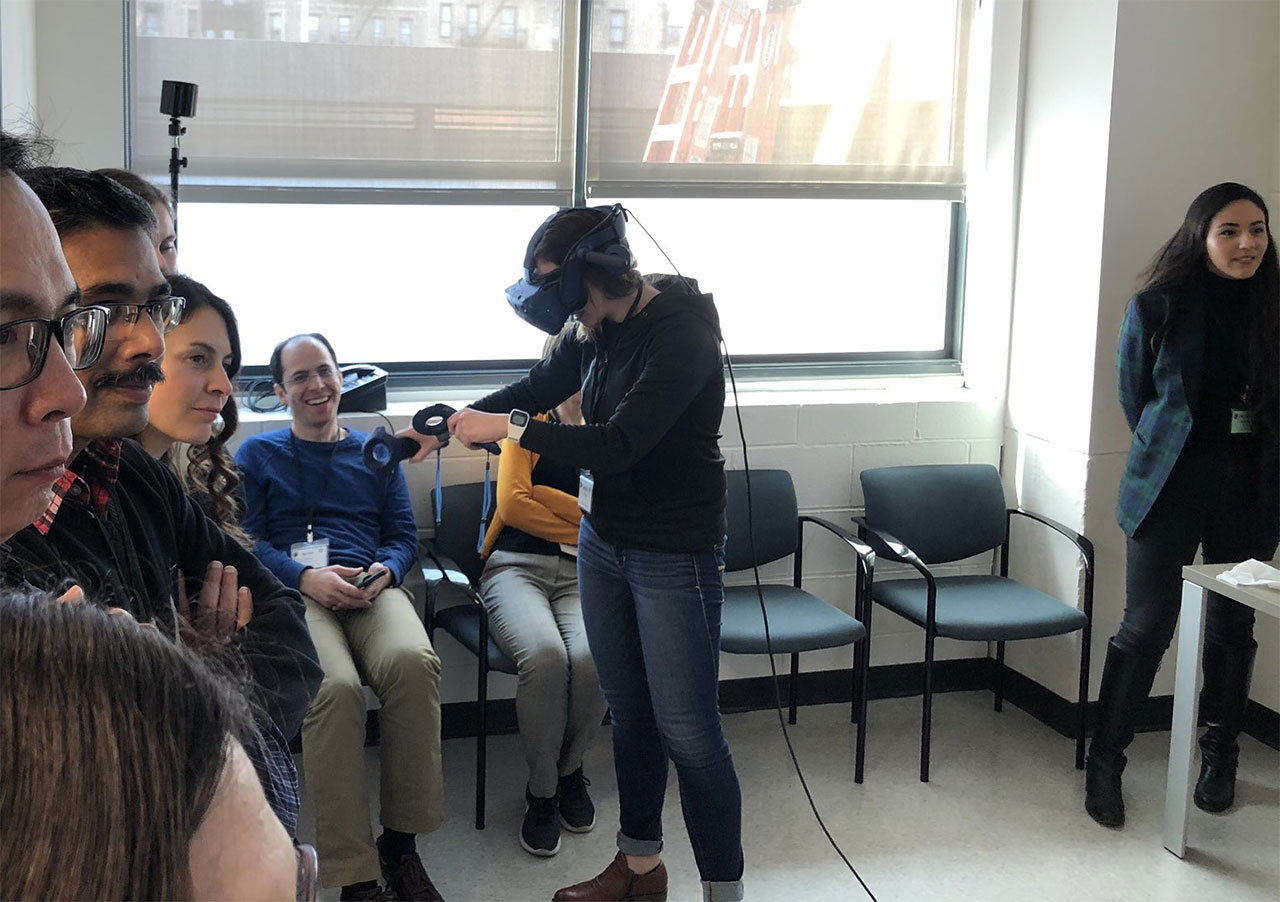 How do we help biomedical researchers access #cryoEM training tools? One solution is #VirtualReality. @brenda_agenda & Jiahui Dong demonstrated how #cryoVR trains scientists in the art of sample preparation during NCCAT's SPA shortcourse.

Learn more: https://t.co/fsDlpGWSDC. pic.twitter.com/A9swK41Yg2

— Edward Eng (@edward_eng) March 3, 2020
January 23rd, 2020
Brenda demonstrated the Purdue CryoVR tools to local high school students at the PI4D Lecture hall series at Purdue.
September 24 – 25th, 2019
Jiahui attended the 2019 Junior Achievement job Spark event at the Indianapolis Fare Grounds, where about 10,000 high school students attended. Various students tried our cryoVR tools on site, while many students looked at the demonstration.
August 8th, 2019
Brenda and Jiahui did an interview with the Creator's Cloud on behalf of the CryoVR team. They did a podcast interview and explained the CryoVR training platform.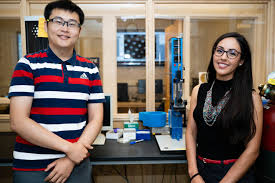 June 22nd – 23rd, 2019
Dr. Jiang, Jiahui, Ziwei, and Brenda participated in the Workshop on Biological Structure Determination using Cryo-EM at the ACA 2019 Meeting in Covington, KY.
Brenda and Jiahui gave a 30 minute talk on our CryoVR training platform progress with the Gatan CP3 and the current state of our new, Thermofisher Vitrobot Mark IV.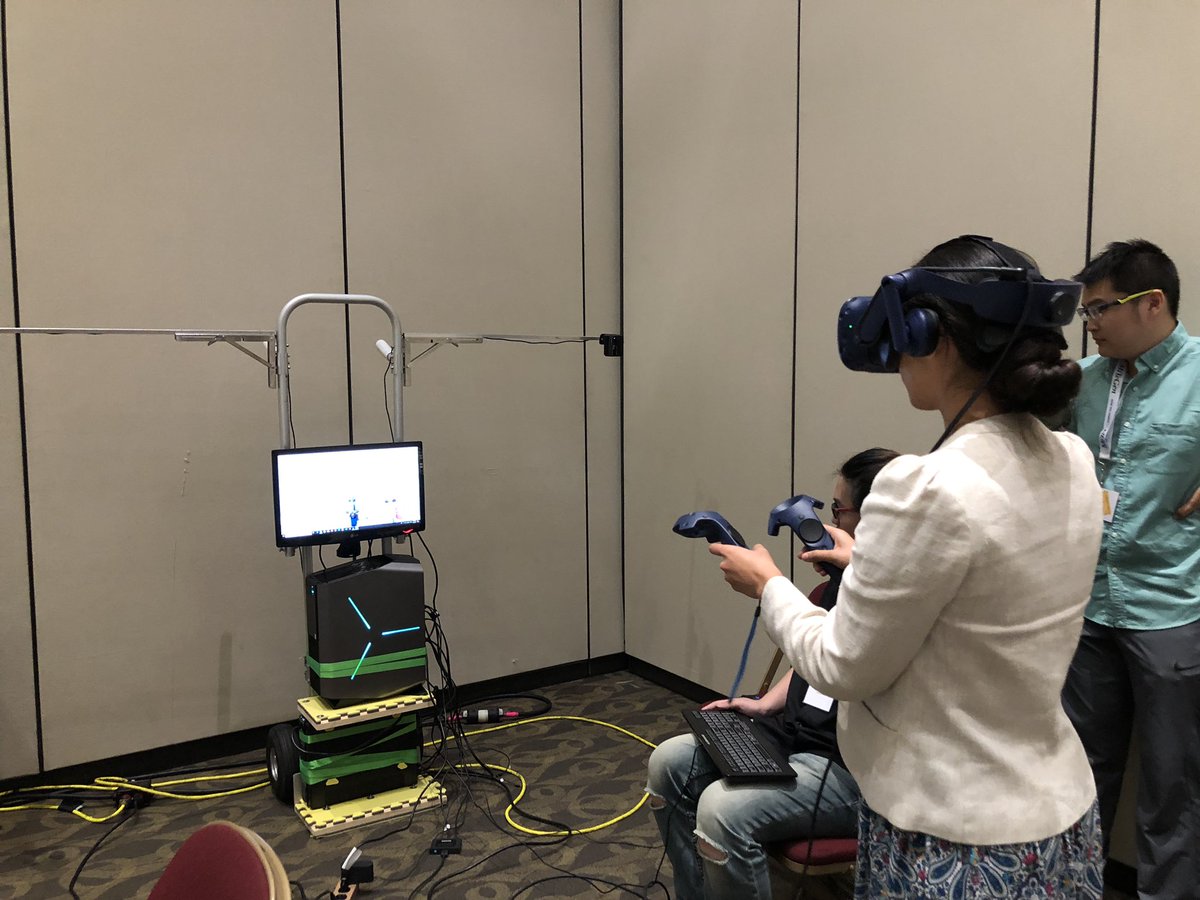 March 23rd, 2019
Jiahui and Dr. Chen presented our CryoVR project at the IEEEVR International Conference in Osaka, Japan. They participated in the 3DUI contest and submitted their work under the title: Virtual Reality Training with Passive Haptic Feedback for CryoEM Sample Preparation.
March 7th, 2019
---
We shared our progress with the CP3 CryoVR tutorial at the Purdue CryoEM Consortium meeting at Morgan Burton. We are excited and happy to hear feedback from our users!
November 7th, 2018
---
Thank you to the Purdue 2018 CryoEM Symposium for letting the CryoVR team showcase the newest training module developments!
November 5th, 2018
---
The team debuted the new, CryoVR V.0.3 training module featuring a self-guided tutorial mode at the Purdue Dawn or Doom conference! We want to thank all of the users and people who stopped by our poster to learn more about our goals with CryoVR. We got very valuable feedback on our freshly developed self-guided tutorial mode.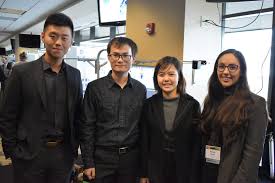 May 10th, 2018
---
The Purdue CryoVR team was awarded 1st place in the scientific art exhibition at the 2018 Purdue Hitchhiker's to the Biomolecular Galaxy Symposium! Brenda presented a poster and gave a talk on Virtual Reality Training tools for CryoEM.
March 15th, 2018
---
Purdue officially announced the CryoVR Proposal written by Purdue faculty has been officially funded by NIH. The four Purdue faculty members: Wen Jiang (Dept. of Bio Sci), Victor Chen (Computer Graphics Technology), Tommy Sors (PI4D), and William Watson (College of Edu.) were awarded with a 3-year funding to support their development of Virtual Reality training and outreach tools in cryo-EM, a popular, up-and-coming biophysical method used to discern the structure of Zika virus and other notable bio molecular structures.